Sharing the (Local) Love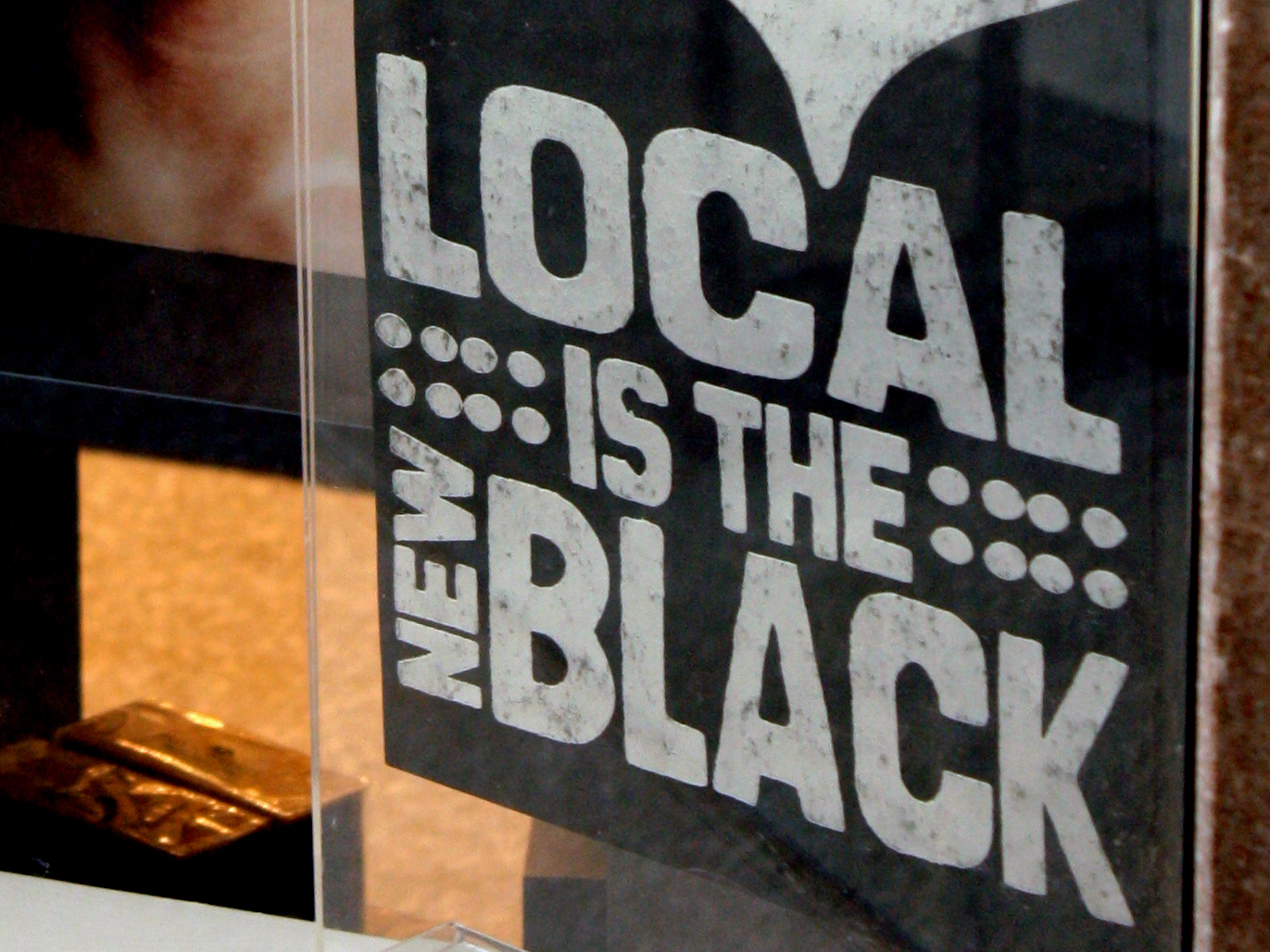 There's been quite the hullabaloo lately surrounding the notion of "keeping it local" and supporting local businesses. Why all the fuss? Well, it's like this: when small businesses support each other, it creates a sense of community. When there is a sense of community, people are more prone to endeavor to continue making that community the best it can possibly be. When the community thrives, the people who live and work there are productive members of society, and they continue to give back to their community…and the cycle of giving (and thriving) goes on and on and on.
Why else should we support our local businesses? Because those businesses were usually built from the ground up, with care and tenacity, sweat and tears- and since they are built with TLC, they honestly tend to care more about their customers who have helped make them so successful. Have you shopped at Dorothy Lane Market lately? DLM started as a fruit stand in 1948 – yes, that's right, a fruit stand. And they still support local growers today with their "Honestly Local" policy. They also take care of their customers by offering some of the best service you'll find anywhere, hands down. And because of their outstanding quality foods, unsurpassed customer service, and local flavor, they've built a loyal customer base of tens of thousands of Daytonians.
I've had several experiences lately with non-local vendors who have made mistakes on orders and haven't been willing to work with us to make it right for our clients. We are just a faceless voice on the end of the phone or the unknown person on the other side of an email- and there was little motivation on their part to make it right. They don't know us; they don't know our clients- simply put, they're not invested in us, our clients or our success. If we don't place another order with them, someone else will, in some other city, in some other state, and these vendors will move right along down the "fill as many orders as quickly as we can" path without looking back.
I don't want to sound like I'm whining – I'm not. I'm simply pointing out that when I compare large faceless companies to some of the amazing local vendors and artists I've worked with here in Dayton – there's just no comparison at all.
For example, take Ashley Mauro, a local photographer who stopped by my store about a year ago to introduce herself. She came smiling through the door saying, "I've been referring people to you and decided I wanted to get to know who I was sending people to…" We had a long chat and afterward I knew I could recommend her work (and her personality) with 100% confidence that my customers would be thrilled with their choice. And if her amazing photography doesn't speak for itself, her friendly and sweet nature would put even the most stubborn clients at ease. She even took the time to send me a thoughtful little gift of tea and teacups later that week after we'd chatted about our Starbucks addictions.
Then there's Jaffe jewelers, a Dayton favorite for over 40 years. I had a bride tell me recently how impressed she was with her jeweler for really listening and carefully walking them through the process of choosing a ring that was perfect for them. After meeting with Jaffe, she and her fiance went out to dinner with family; the jeweler they had worked with earlier that day remembered where they had said they were dining and he had a bottle of wine sent to their table. Because he took the time to listen, and made an extra effort to make his clients feel special, he now has a customer for life.
When we continuously refer clients to other service providers we trust, the cycle of support continues…the local businesses thrive, the customers tell their friends about their experiences, and everybody wins.
What's the bottom line? People like to shop local because they feel taken care of- they can put a face and a voice with a brand. My customers know me. They know what to expect when they come into the shop. And they know that if their New Year's cards that UPS claims were delivered on December 23rd didn't actually arrive, that I'm going to spend December 26th re-creating them from scratch and find a way to get them to my customer before the 31st. No matter what. I take care of my people because they take care of me. I believe in building relationships with the people I serve because they are the ones who support us and make it possible to open our doors every day. It's about sharing the love throughout our network of clients and other local businesses so we can all continue to pay it forward and make our community grow and thrive.
---